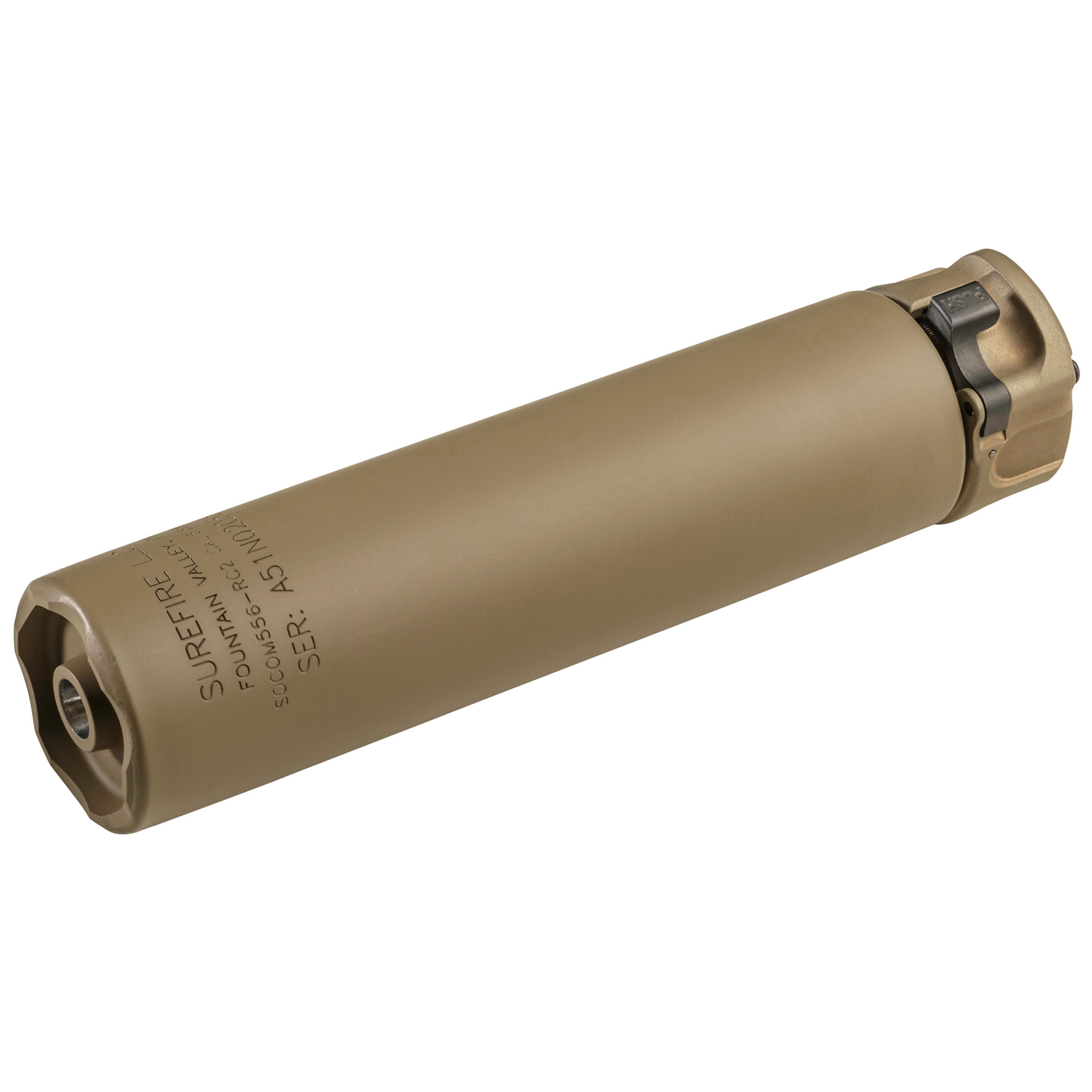 Surefire
Socom 556 Rc- 2 De
Product Code: SOCOM556-RC2-DE UPC/Barcode: 084871324571
Surefire, 2nd Gen SOCOM Rifle Suppressor, RC2, 5.56MM, DarkEarth Finish, End Mount Fast Attach
Durable construction
Tight tolerances and precision bore concentricity
Tool-less Fast-Attach design
Innovative mounting adapters for a precise fit
When SureFire submitted its SOCOM556-RC suppressor for consideration by the US Special Operations Command (SOCOM), they expected that the road to certification would be tough, and yet they were confident that their uncompromising standards would be the fundamental factor in their success. Their design not only passed the rigorous trials, it obliterated the competition in every aspect of performance and durability. What better way to earn the right to wear the esteemed SOCOM name. Designed specifically for use with 5.56 mm (.223 caliber) weapon systems featuring a minimum barrel length of 10 inches, the SureFire SOCOM556-RC2 showcases the cutting-edge suppressor design and incorporates the latest in manufacturing techniques and materials to produce the finest tool of its kind. You can count on the SOCOM556-RC2 to deliver the utmost in sound attenuation and a tremendous reduction in flash and dust signature.
Click here for more information about NFA items.
Click here to find out how to process your Form 4 with Silencer Shop.
| Manufacturer | Surefire |
| --- | --- |
| Model | SOCOM 556 RC2 |
| NFA | Yes |
| Rimfire/Centerfire | Centerfire |
| Optimized Calibers | 5.56 NATO |
| Sound Suppression by Caliber | 16" barrel: 134 dB |
| Barrel Length Restriction | optimized for over 10" |
| Number of Baffles | Proprietary System |
| QD System | Fast Attach |
| Modular | No |
| Full Auto Rated | Yes |
| Direct Thread | No |
| Universal Threads | No |
| Diameter | 1.5" |
| Thread Pitch | n/a |
| Length Added to Firearm | approx 3.8" |
| Warranty Type | Limited, Manufacturer Defect |
| Material | Stainless Steel and high temp alloy |
| Color | Desert Earth |
| Weight | 17 oz |
| Included | FDE Fabric Pouch, Cleaning Brush |
| Box Included | Yes |
| Box Dimensions | 10.2" x 3.5" x 3.5" |
| Package Weight | 1 lb 3 oz |
| UPC / Barcode | 084871324571 |
| Manufacturer : | Surefire |
| --- | --- |
| Model : | SOCOM 556 RC2 |
| NFA : | Yes |
| Rimfire/Centerfire : | Centerfire |
| Optimized Calibers : | 5.56 NATO |
| Sound Suppression by Caliber : | 16" barrel: 134 dB |
| Barrel Length Restriction : | optimized for over 10" |
| Number of Baffles : | Proprietary System |
| QD System : | Fast Attach |
| Modular : | No |
| Full Auto Rated : | Yes |
| Direct Thread : | No |
| Universal Threads : | No |
| Diameter : | 1.5" |
| --- | --- |
| Thread Pitch : | n/a |
| Length Added to Firearm : | approx 3.8" |
| Warranty Type : | Limited, Manufacturer Defect |
| Material : | Stainless Steel and high temp alloy |
| Color : | Desert Earth |
| Weight : | 17 oz |
| Included : | FDE Fabric Pouch, Cleaning Brush |
| Box Included : | Yes |
| Box Dimensions : | 10.2" x 3.5" x 3.5" |
| Package Weight : | 1 lb 3 oz |
| UPC / Barcode : | 084871324571 |