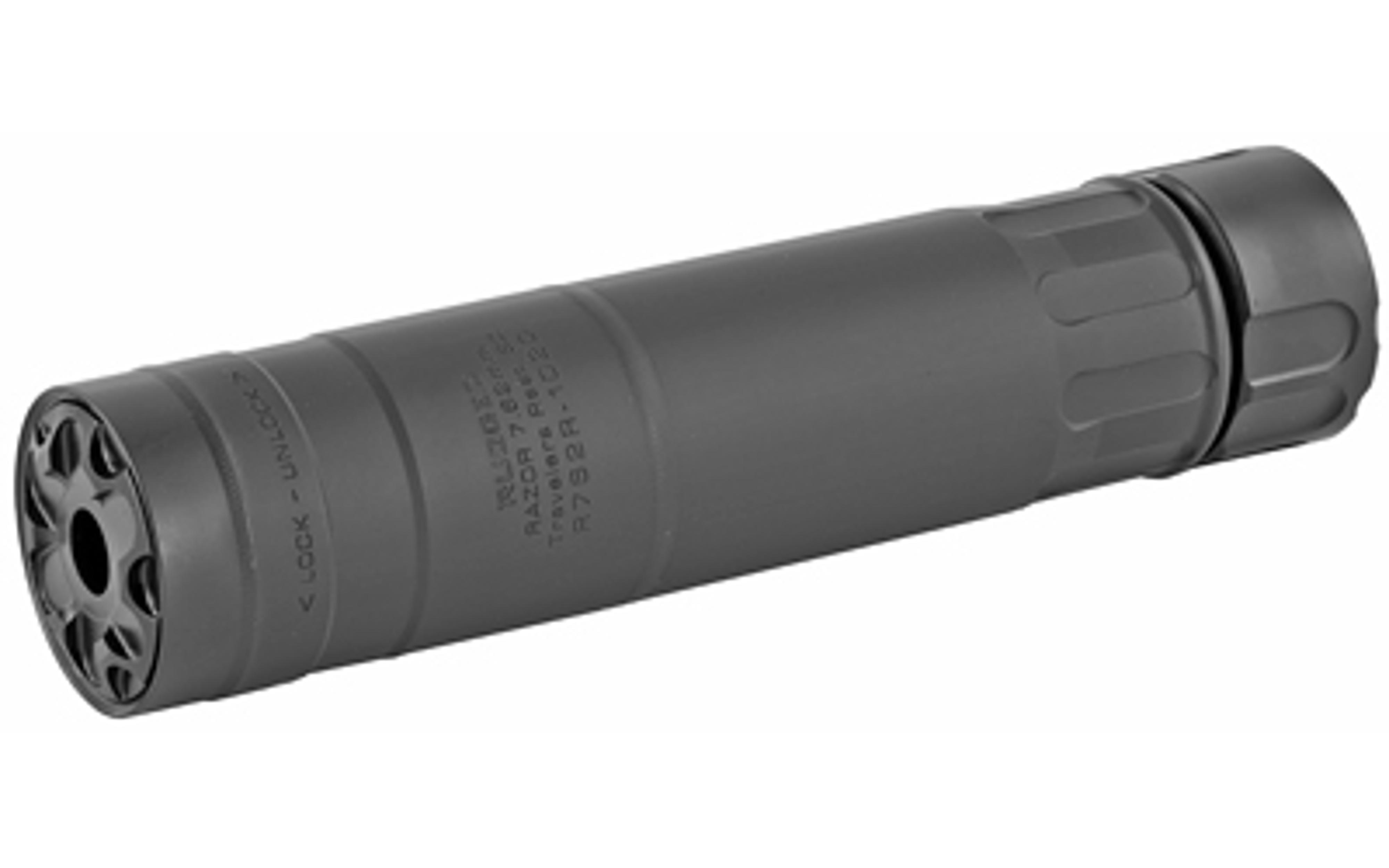 Rugged
Razor 762 Ss/Stellite
Product Code: RZR01762 UPC/Barcode: 859383006013
Say goodbye to a face full of gas. The Razor 7.62 is designed to have reduced gas blowback for your semi and full-auto platforms. The Razor 7.62 is machined from 17-4 Stainless steel barstock and heat treated, with full circumference welded Stellite baffles. This produces unparalleled heat and abrasion resist. And finally, the engraving is strategically placed over the thickest cross section of the tube for fast and easy replacement should the suppressor become damaged beyond repair. Say goodbye to wobbly and carbon locked mounts. The first taper of the dual taper mount creates a friction lock to keep your suppressor where it should be, on your rifle. The No Go/Go Gauge will give you confirmation that your suppressor is properly attached. Every Razor 7.62 is tested for accuracy and repeatable return to zero before leaving the shop. Machined from top of the line materials to withstand any rate of fire; whether it be precision rifle or a cyclic belt fed machine gun.
Click here for more information about NFA items.
Click here to find out how to process your Form 4 with Silencer Shop.
| Manufacturer | Rugged |
| --- | --- |
| Model | Razor 762 |
| NFA | Yes |
| Rimfire/Centerfire | Centerfire |
| Caliber Rating | .300 RUM |
| Optimized Calibers | .308 Win, .300 BLK |
| Sound Suppression by Caliber | 134dB @ ear |
| Barrel Length Restriction | None |
| Number of Baffles | 6 |
| QD System | Dual Taper Locking System |
| Modular | No |
| Full Auto Rated | Yes, and belt fed |
| Direct Thread | No |
| Universal Threads | No |
| Diameter | 1.5" |
| Thread Pitch | 5/8 x 24 TPI |
| Length Added to Firearm | Approx 6" |
| Warranty Type | Unconditional Lifetime |
| Material | 17-4 Stainless Steel, Stellite |
| Color | Black |
| Weight | 15.3 oz |
| Included | R3 Flash Hider, Front Cap |
| Box Included | Yes |
| Box Dimensions | 9.5" x 2" x 2" |
| Package Weight | 1 lb 6 oz |
| UPC / Barcode | 859383006013 |
| Manufacturer : | Rugged |
| --- | --- |
| Model : | Razor 762 |
| NFA : | Yes |
| Rimfire/Centerfire : | Centerfire |
| Caliber Rating : | .300 RUM |
| Optimized Calibers : | .308 Win, .300 BLK |
| Sound Suppression by Caliber : | 134dB @ ear |
| Barrel Length Restriction : | None |
| Number of Baffles : | 6 |
| QD System : | Dual Taper Locking System |
| Modular : | No |
| Full Auto Rated : | Yes, and belt fed |
| Direct Thread : | No |
| Universal Threads : | No |
| --- | --- |
| Diameter : | 1.5" |
| Thread Pitch : | 5/8 x 24 TPI |
| Length Added to Firearm : | Approx 6" |
| Warranty Type : | Unconditional Lifetime |
| Material : | 17-4 Stainless Steel, Stellite |
| Color : | Black |
| Weight : | 15.3 oz |
| Included : | R3 Flash Hider, Front Cap |
| Box Included : | Yes |
| Box Dimensions : | 9.5" x 2" x 2" |
| Package Weight : | 1 lb 6 oz |
| UPC / Barcode : | 859383006013 |