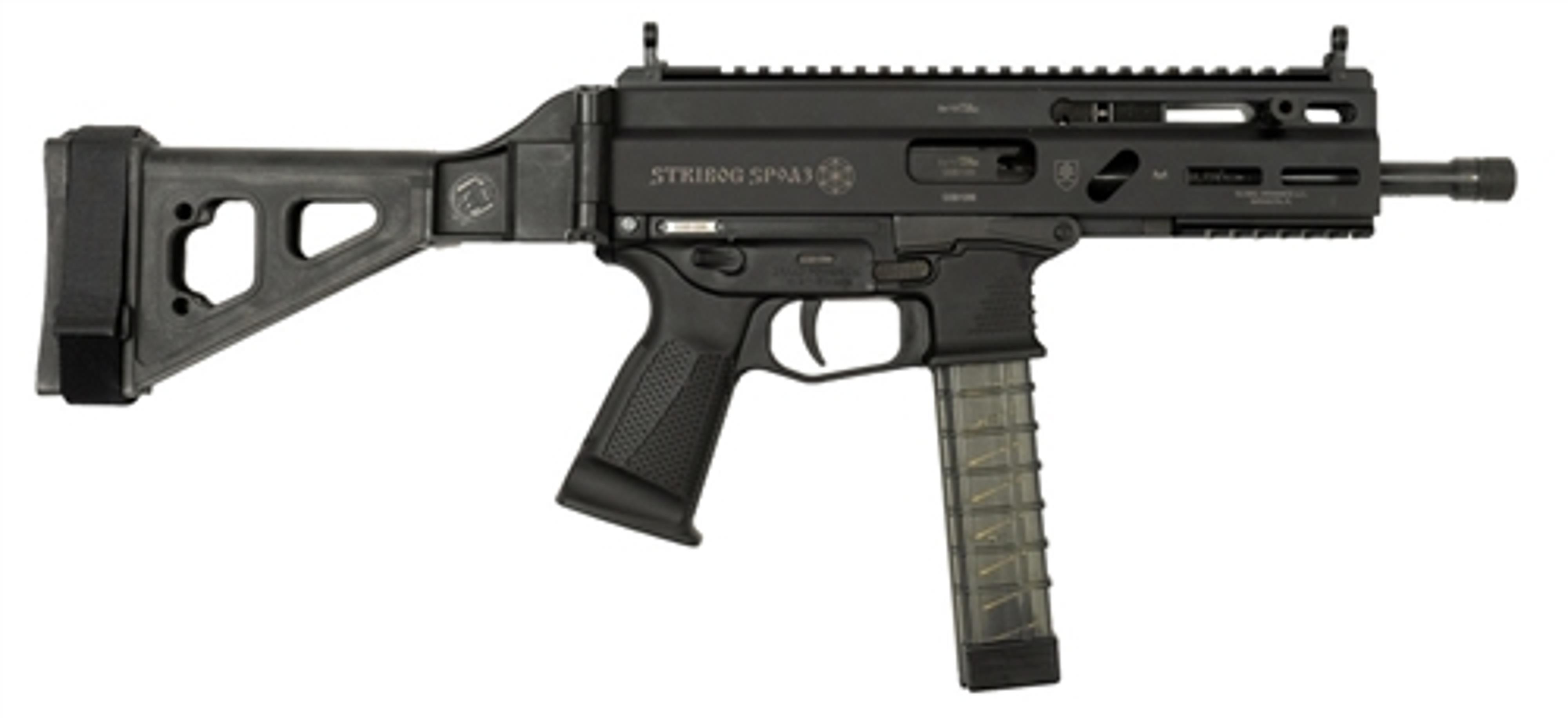 Grand Power
Stribog Sp9a3 With Brace
Product Code: SP9A3-SB UPC/Barcode: 850003223117
One of the most anticpated guns of 2020. The Delayed Roller Stribog from Grand Power. Chambered in 9mm, the Stribog comes with 3, steel reinforced 20rd magazines as well as a custom hard case. This gun is manufactured in Slovakia by Grand Power and is imported by Global Ordnance. The Stribog SP9 A3 offers the reliability and robustness of previous versions that enthusiasts, reviewers, and firearm dealers have come to love. The new Stribog SP9 A3 brings a pair of fundamental improvements in the form of a semi-locked bolt with delayed action via transfer roller and non-reciprocating charging handle that remains in the front position when firing.
Each new Stribog SP9A3 ships with:
3x 30 round Magazines
SBT Folding Brace
MLOK Accessory Mounts
Custom fitted hard case
Pair it up with a Red Dot sight.
| Manufacturer | Grand Power |
| --- | --- |
| Model | SB9A3-SB |
| Operating System | Roller Delayed |
| Type | Pistol with Brace |
| NFA | No |
| Caliber | 9mm |
| Mag Capacity | 30 |
| Magazines Included | Three |
| Barrel Length | 8 inches |
| Barrel Lining | n/a |
| Twist Rate | 0.0486111111 |
| Threaded Barrel | Yes |
| Thread Pitch | 1/2 x 28 TPI |
| Adjustable Gas Block | n/a |
| Muzzle Device | Thread Protector |
| Handguard Length | Accessory rail length: 3 inches |
| Rail Type | Picatinny |
| BCG Finish | Black |
| Trigger | Single Stage |
| Ambidextrous Safety | Yes |
| Ambidextrous Mag Release | Yes |
| Ambidextrous Charging Handle | No |
| Ambidextrous Slide Release | No |
| Grips | Polymer, Heavily Textured |
| Stock/Brace | Folding Brace |
| Optic Included | Irons included |
| Right/Left Handed | Right |
| QD Sling Cups | No |
| Color | Black |
| Weight | 5 lbs |
| Product Dimensions | 15.7 x 8 x 2.2 without brace |
| Box Included | Yes |
| Box Dimensions | 19.5 x 12.5 x 4.25 inches |
| Package Weight | 8 lbs 10 oz |
| UPC / Barcode | 850003223117 |
| Manufacturer : | Grand Power |
| --- | --- |
| Model : | SB9A3-SB |
| Operating System : | Roller Delayed |
| Type : | Pistol with Brace |
| NFA : | No |
| Caliber : | 9mm |
| Mag Capacity : | 30 |
| Magazines Included : | Three |
| Barrel Length : | 8 inches |
| Barrel Lining : | n/a |
| Twist Rate : | 0.0486111111 |
| Threaded Barrel : | Yes |
| Thread Pitch : | 1/2 x 28 TPI |
| Adjustable Gas Block : | n/a |
| Muzzle Device : | Thread Protector |
| Handguard Length : | Accessory rail length: 3 inches |
| Rail Type : | Picatinny |
| BCG Finish : | Black |
| Trigger : | Single Stage |
| --- | --- |
| Ambidextrous Safety : | Yes |
| Ambidextrous Mag Release : | Yes |
| Ambidextrous Charging Handle : | No |
| Ambidextrous Slide Release : | No |
| Grips : | Polymer, Heavily Textured |
| Stock/Brace : | Folding Brace |
| Optic Included : | Irons included |
| Right/Left Handed : | Right |
| QD Sling Cups : | No |
| Color : | Black |
| Weight : | 5 lbs |
| Product Dimensions : | 15.7 x 8 x 2.2 without brace |
| Box Included : | Yes |
| Box Dimensions : | 19.5 x 12.5 x 4.25 inches |
| Package Weight : | 8 lbs 10 oz |
| UPC / Barcode : | 850003223117 |